The Instagram account of BTS group member V (Kim Taehyung) surpassed all surviving stars around the world and ranked first in brand value.
According to a social media auditor company on the 22nd April, the estimated cost of sponsorship (advertisement) posts on BTS V Instagram account as of the same day was up to $773,000 (about 960 million Korean won).
$773,000 is the highest amount among BTS members and other Korean celebrities, and it is also the highest amount in the world.
Sponsored Post fees are based on the number of followers on your account and related activity. According to 'Influencer Statistics', V's average 'likes' per post was 12.9 million, and video posts were priced at this cost.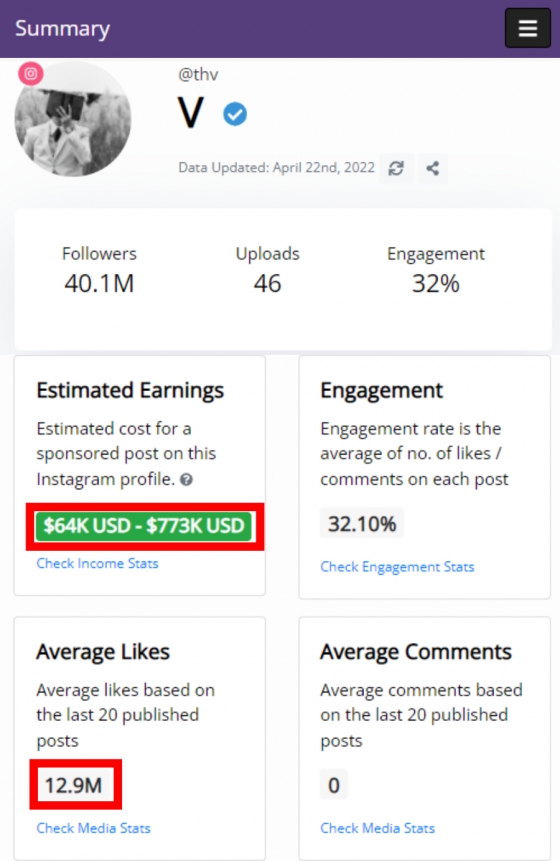 Recently, a video of BTS V enjoying 'Dance' alone at a jazz bar ahead of his Las Vegas performance, surpassed 10 million views in 4 hours and 20 million views in 13 hours, making it the fastest number of views in Asia and the second highest in history in the world. Considering that the number of followers of No. 1 Ronaldo is 430 million, which is more than 10 times that of V, this proves V's social influence and topicality.
View this post on Instagram
In the 'Instagram All-Time Top 20 Likes', BTS V is the only Asian celebrity to be ranked 18th. The people on the rankings are all super-celebs with more than 100 million to 400 million followers.
BTS V is the 'World's Fastest' to hit 1 million and 10 million follower records certified by Guinness World Records, and also set the world's shortest record to hit 20 million, 30 million, and 40 million followers.
[K-pop Updates]