BTS V (Kim Taehyung) selected as one of the Top 10 global influencer on Instagram.
BTS member V became the first Korean male celebrity to become the 'Top 10 Most Influential People on Instagram', reaffirming the reputation of the 'Social King', according to ranking of the influencer marketing platform 'HypeAuditor'.
Soccer player Cristiano Ronaldo took first place, US sister models Kylie Jenner and Kendall Jenner in second to third place, American model and actress Kim Kardashian in fourth place, and Selena Gomez in fifth place, respectively. After that, Ariana Grande was ranked 6th, and Messi was ranked 7th.
In this chart, which quantifies marketing influence by evaluating the activity and quality of followers, V became the first Korean male to enter the Top 10 Instagram global Influencer, as well as ranking first in Asian men and third in male celebrities around the world.
BTS V's Instagram account has the highest number of average Likes worldwide and the highest level of follower activity which makes him the Top influencer.
BTS V is the 'World's Fastest' to hit 1 million and 10 million follower records certified by Guinness World Records, and also set the world's shortest record to hit 20 million, 30 million, 40 and 50 million followers on Instagram.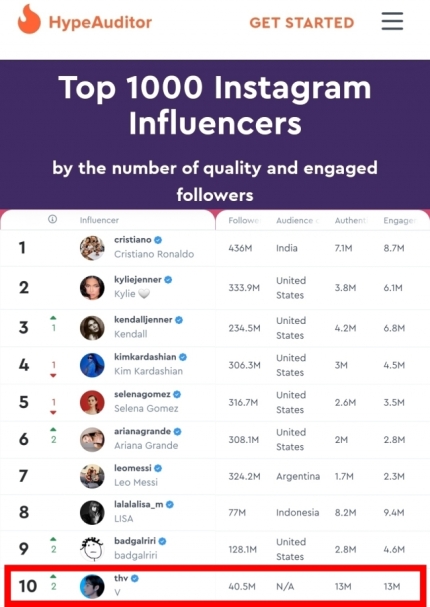 The average number of 'Likes' on BTS V per post on Instagram as of 30 days is 13 million, the highest in the world. Compared to Cristiano Ronaldo, a soccer player who has 10 times more followers and influencer worldwide, who has 10 times more followers than V, who has an average of 9 million 'Likes', V's influence is far superior.
Recently, a video of BTS V enjoying 'Dance' alone at a jazz bar ahead of his Las Vegas performance, surpassed 10 million views in 4 hours and 20 million views in 13 hours, making it the fastest number of views in Asia and the second highest in history in the world.
The first place was a thank-you video sent to fans by Cristiano Ronaldo when he left Juventus in August 2021, recording 20 million views in two hours.
As such, V's social influence has a fast reaction speed and explosive cohesion compared to followers. If he shows this level of impact with 40 million followers within 4 months of creating an account, the ripple effect of having more than 100 million followers is beyond imagination.
The estimated cost of sponsored posts on influencer BTS V Instagram account was up to $782,000, or about 987 million won, which is the highest amount among Korean celebrities, and it is also the highest amount in the world.
The Instagram account of BTS member V (Kim Taehyung) has already surpassed all surviving stars around the world and ranked first in brand value.
Top 10 Instagram Influencer by number of quality and engaged Followers
Here's the list of Instagram Top 10 Influencer by the number of quality and engaged Followers in 2022
Cristiano Ronaldo
Kylie Jenner
Kendall Jenner
Kim Kardashian
Selena Gomez
Ariana Grande
Messi
Lisa
Rihanna
Kim Taehyung (BTS V)
[Gaurav, K-pop Updates]
Read related article
BTS V fastest to hit 50 million on Instagram