BTS Jimin and Ha Sung-woon collaborated OST for the drama 'Our Blues' name "With You" is released now on all music streaming platforms.
Jimin 'With You' is a song about wanting to be by the side of the people you love, and the harmony between the acoustic guitar and the piano gives warmth.
This is a song of light and salt that goes perfectly with any scene as soon as it appears in the drama.
[MV] Jimin X Ha Sung-Woon – With you | (Our Blues) OST Part 4 – YouTube
[Spotify] With You –
Jimin, HA SUNG WOON
[Spotify] With You –
Instrumental
Jimin Spotify Profile
With the release of the OST "With You", BTS Jimin is having his own Spotify profile, only Jimin was left from BTS who was not having his Spotify account till now.
You can follow BTS Jimin on Spotify here:
Now all BTS members are having their own individual official Spotify profile.
Now all members of @BTS_twt have Spotify profiles!!

[New] Jimin :https://t.co/BN2mkWBGt6

J-Hopehttps://t.co/O6pU0ZLYct

Jungkookhttps://t.co/IQV7Orubr2

— BIGHIT INFO ✪ (@BIGHIT_INFO) April 24, 2022
One day before the release of the first OST, BTS Jimin dominated Korean real-time trends and real-time search terms for Melon.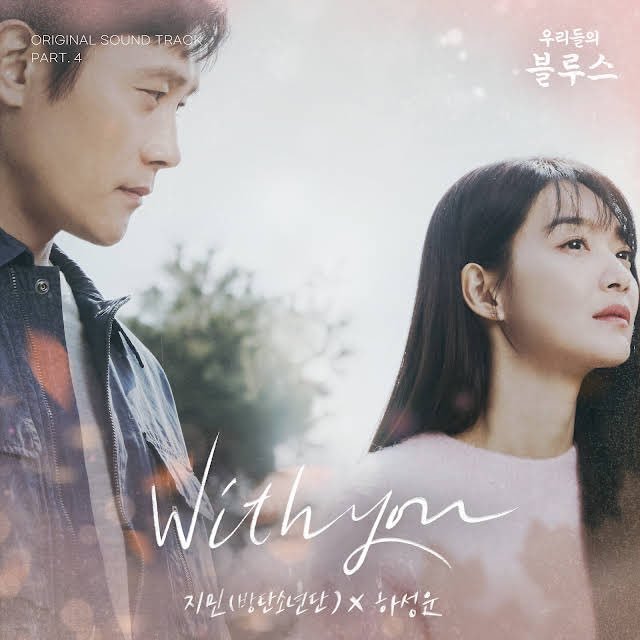 Meanwhile, 'Our Blues' the series revolves around the sweet and bitter life of people standing at the end, climax, or beginning of life, and depicts their stories in an omnibus format against the backdrop of Jeju Island.
[Gaurav K-pop Updates]